Douglas G. Rein
Douglas G. Rein founded Team Rein Real Estate in 1983. Read more about his background here.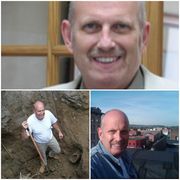 Douglas G. Rein was born in Apalachin, NY and has considered the Town of Union home since he was 3 years old. He holds a degree in Criminology and worked in Retail Security and Law Enforcement. Mr. Rein was honorably discharged from the United States Marine Corps Reserve in 1977. In 1980 he returned to college and received his Bachelors in Business from Binghamton University in 1981. Following in the footsteps of his grandfather, he signed on with AT&T, learning first hand marketing and negotiating skills from the largest corporation in the world, and eventually joining the management team at Verizon Communications. He has conducted sales and marketing training and appeared in corporate training and motivational films, which were produced in the company's New York City studios.
From the beginning, Team Rein was focused on investment property management. In 1987, Mr. Rein obtained his Associate Salesperson License and began offering his services to the public in 1998, when Team Rein became a trade name broker.

In addition to being Senior Asset Manager and Principal Broker of Team Rein Real Estate, Mr. Rein served as Vice President and is currently Secretary of the Board of Directors of CapeWinds Resort, where his firm has made an investment in Florida's "space coast". He is also a past President of the Southern Tier chapter of the New York State Commercial Association of Realtors (NYSCAR) and served on the Board of Governors of NYSCAR at the state level. Mr. Rein holds a NYS Real Estate Instructor License and is a graduate of the Realtor Institute. He is also a former member of the Real Estate Buyer Agency Council (REBAC), and held the Senior Real Estate Specialist designation and was awarded the Certified Residential Specialist designation by the Council of Residential Specialists. Less than 4% of Realtors are Certified Residential Specialists.
Mr. Rein and his team's experience in managing investment homes, apartments and commercial properties has served them well in aiding new Buyers (and their Realtors) and Investors in their need to come to a meeting of the minds in a real estate transaction. Their deep roots and considerable investment in the community, have given them a unique insight into what it is that makes the Southern Tier a great place to live, work and invest in. Their relationships with thousands of past and present tenants have helped to keep them in touch with the community on a grass roots level.
In addition to Real Estate, Mr. Rein is involved in classic autos, vintage motorcycles, composing music and collecting guitars. He enjoys Florida and California as much as his own back yard, where he enjoys landscaping and mowing.
"Thank you for taking the time to read about me. Please take a moment to check out what we can do for you, and please do not hesitate to call on any one of the team for help in meeting your investment real estate management needs. Welcome to Team Rein Real Estate Services." - Doug Rein, Principal Broker, Senior Asset Manager